Quick Links: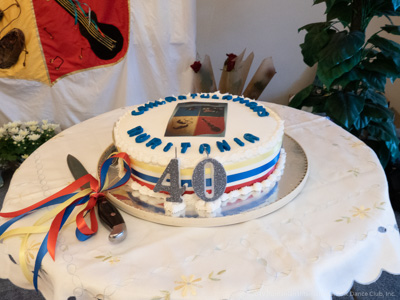 40th Anniversary Gallery

Winter WarmUp 2018 Gallery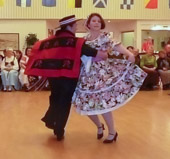 Winter WarmUp 2015 Gallery

Winter WarmUp 2014 Gallery

Cutting the cake - 25 years!
Submit your photos via the FDNZ editor
About Us
The Ruritanian International Folkdance Club, Inc. has been providing and promoting opportunities in heritage and ethnic dancing for over 40 years.
Members include not only enthusiasts and teachers of international dancing, but several who provide classes and lead performing groups in specific ethnic styles. Click here for Ruritanian Club membership form!
Activities run by the Club itself are mostly public dance parties and workshops. Workshops are presented by world-class visiting tutors or local teachers sharing fresh experience or special expertise. See the Events page on the Folk Dance NZ website for the latest.
The quarterly magazine, "Ruritanian Roundabout," publicises:
the Club's dance parties and workshops,
the regular activities and special events offered by associated groups,
and other opportunities of interest to members, such as forthcoming national camps.
The Club is glad of opportunities to help foster a multicultural life in our city, and to assist those who would like to share their culture with others.
For discussion, further information, or membership, contact:
Rae Storey
24a Dell Ave, Remuera
Auckland 1050
Ph: (64-9)524-9504
E-mail: raestorey36 @ gmail.com
Regular Folkdance Sessions - Every Week

For monthly events, go to the Folk Dance NZ listings.

Note: Country code is 64 and area code is 9 for all phone numbers. Prefix with +649...

DAY

CLASS & LOCATION

TIME

CONTACT

Monday and Friday

International Folk Dance
Venue: Rae's loft, 24a Dell Ave, Remuera

9.30am
- 12 noon

Rae Storey
Ph: 524-9504
raestorey36 @gmail.com (click here for Rae's CV)

Monday

Israeli Dancing, Beginners Group
Venue as per Wednesday

7.00pm
- 8.30pm

Marta Cullen
Mob: 021-898345 marta.cullen @ gmail.com

Thursday

Korean dancing for all
St John Education Centre, 247 Edmonton Rd, Te Atatu South

10:30am - 12 noon

Leah Park
Ph: 832-4805
pokcarrya @ naver.com

Wednesday

(usually Wednesdays - please confirm before coming!)

Israeli Dancing: Ma'ayan Group
Beth Shalom, 180 Manukau Rd, Epsom

7.00pm
- 9.00pm

Jennifer Gottschalk
Ph: 480-4330 jennygo @ complus.co.nz

Beginners by prior arrangement 6:30pm

Thursday

City of Auckland Morris Dancers
St Lukes Church Hall, 704 New North Road, Saint Lukes

7.30pm

Andy Smith
Ph: 361-2133

All welcome - dancers and musicians! Details at aucklandmorris.org.nz

Friday

(Dancing every week)

IFD incl. Chinese & Taiwanese: Joy International Folk Dance Group
St. John Ambulance Hall, 590 Pakuranga Rd., Highland Park

1.30pm - 4:00pm

Cherie Zeng
Ph: 537 1568
027 5774 168
joy.international.dance.group@gmail.com

Saturday

(2-4 times a month)

International Folk Dance

Contact Gwen to receive notification of classes.

Morning

Gwen Mann gwenmann @ xtra.co.nz
Ph: 575-1985
Mob: 027-3807600

Folklore Chileno Latino

Instructions & practice lessons for folk dances from South America. For enquires please contact Ana Maria.

Ana Maria de Vos
Ph:

638-6771


Txt:

021-156-8020


anamaria.devossanchez

@

gmail.com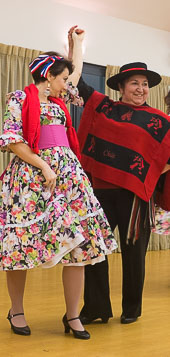 Folklor Chileno Latino
Specialist Ethnic Dancing
A number of teachers and groups provide specialist ethnic dancing in classes, parties, or for performance. See the Go Dancing! page on the FDNZ website.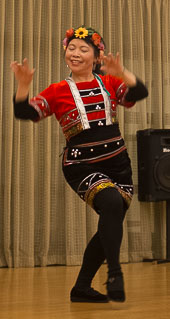 Joy Dancers
Workshops, Performances and Socials
Ruritanian Roundabout
Our magazine is produced every quarter. The cover and body are available as separate PDFs below.
2021 Ruritanian Society Contacts
Note: Country code is 64 and area code is 9 for all phone numbers.
PRESIDENT

Maggie Quinlan

Phone: 294-7979
Mob: 0275-420-525
maggiquin @ xtra.co.nz

VICE-PRESIDENT

Kathie Ellis

Phone: 529-4129

TREASURER, MEMBERSHIP

Dorothy (Dot) Otto

Phone: 523-1481

EDITOR & PUBLICITY

Rae Storey

Phone: 524-9504
E-mail: raestorey36 @gmail.com
Postal address: 24a Dell Ave, Remuera, Auckland 1050